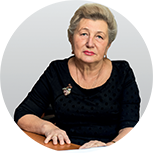 Program Manager
Vera V. Zhivaeva
Head of Department, Oil and Gas Wells Drilling
Associate Professor, Candidate of Technical Sciences
The program is aimed at training highly qualified specialists in the field of oil and gas wells drilling, their reconstruction, restoration and workover.
Faculty members
Candidate of Science and Doctor of Science
Specialists from leading industry companies
Admission Requirements
The application procedure, the number of study places, the list of entrance examinations and information about invitations, visas and the scholarship conditions are published in the Admission section of the website https://samgtu.com.
Upon graduating from the program, students obtain skills and competencies in the field of oil and gas drilling supervision.
Tuition fee per year
Full-Time:
146 580 rubles (₽)
for citizens of Belarus, Kazakhstan, Kyrgyzstan, Tadzhikistan;
for citizens of Armenia, Moldova, Uzbekistan, Georgia with the residence permit in the Russian Federation
208 200 rubles (₽) for citizens of other foreign countries
Part-time:
75 540 rubles (₽)
for citizens of Belarus, Kazakhstan, Kyrgyzstan, Tadzhikistan;
for citizens of Armenia, Moldova, Uzbekistan, Georgia with the residence permit in the Russian Federation
126 000 rubles (₽) for citizens of other foreign countries