31 May 2022
Students participated in two interactive excursions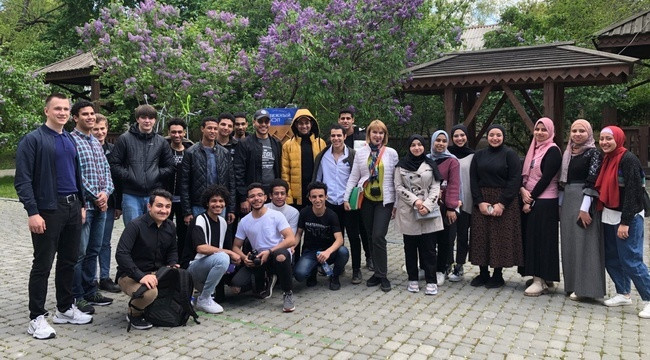 At the end of May, the participants of the project «We are different, we are together!» visited several excursions. First, students Samara Polytech went on an excursion «Meet Samara!». The students, accompanied by a guide, began their journey along the Volga embankment, then walked along Kuibyshev and Frunze streets, visited Chapaev Square and Glory Square. Among the main sights of the city that foreigners saw were the monuments to Grigory Zasekin and Pyotr Alabin, the Zhiguli brewery, the Strukovsky Garden, the museums of Eldar Ryazanov and Alexei Tolstoy, the Church of the Sacred Heart of Jesus, the Academic Drama Theater, Stalin's bunker, Iversky women's monastery, etc.
During the tour, the participants, together with the guide, looked at old photographs of buildings that have already been demolished or restored today. This allowed students to learn more about the history of the city.
The next adventure for foreigners in Samara was the walking quest «Mysteries of the Old City». According to the scenario of the game, the students had to find the treasure hidden by the merchant Alfred von Vacano. To do this, they had to complete several tasks. For example, the guys measured the length of Leningradskaya Street with steps, looked for signs of the revolutionary, Soviet and modern eras in the architecture of the city, recalled the films of Eldar Ryazanov and counted the number of figures on the monument dedicated to Chapaev. The guide helped the participants to complete the tasks, who told about the history of various city sights.
The students successfully coped with all the tests, were able to find all the clues and find the treasure, and also received memorable gifts.
Samara Polytech project «We are different, we are together!» implemented with grant support from the Federal Agency for Youth Affairs (Rosmolodezh). Its executor is the spiritual and educational cultural center of the university together with the department for work with foreign students.