16 Jul 2021
Students completed their pregraduate courses and mastered their Russian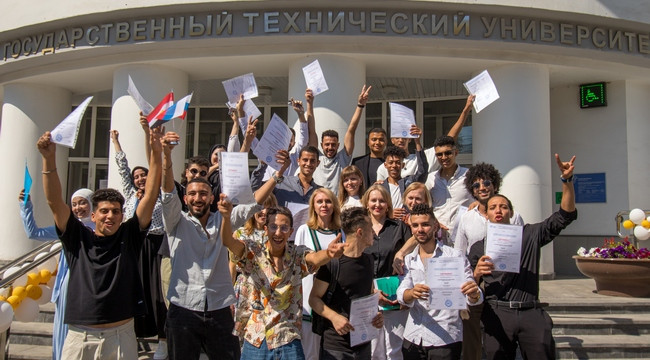 On the 14 th day of July foreign students received Additional General Education Certificates. Now they will be able to continue their studies at Samara State Technical University, as well as enter other Russian universities. The programme is provided be the Center for Additional Training of Foreign Students of the Department for Collaboration with Foreign Students at Samara Polytech.
Evgenii Frank, Vice-Rector of Educational and Social Work, congratulated the students at the ceremony.
«Only yesterday we awarded our best graduates, we are proud of, and let them go on a long professional journey», he said. «And today we are graduating you. I know for a fact that you all are the pride of our university, as well as the pride of the region, and even the whole world. After all, some of you will return to your homeland to engage in the industrial and economic development of your countries».
The Vice-Rector for International Cooperation Anna Zotova, the Head of the Department for Cooperation with Foreign Students Elena Prokofeva, the Director of the Center for Additional Training of Foreign Students Elena Shipanova, teachers and graduates, and partners from Egypt also joined the ceremony.
The Dean of the Faculty of Electrical Engineering Alexander Vedernikov and the Director of the Institute of Oil and Gas Technologies Olga Nechaeva welcomed and encouraged the soon-to-be-students to take a further step and choose their direction.
This year 35 students from Egypt, Syria, Ecuador, Cape Verde, Senegal, Afghanistan, Algeria have become graduates. Some of the students had on campus learning, while the other part had to take their courses remotely. During the nine months studies they mastered not only Russian, but also mathematics, physics, computer science, chemistry, biology and history. Doing all tasks responsibly, regularly attending classes many students received Certificates with good and excellent grades, and Anwar Karim Ashraf Attia and Okasha Abdelrahman Saber Makram from Egypt completed their studies cum laude.
On September 1, today's graduates will become students. Most of them will continue their learning at Samara Polytech.