20 Jun 2022
EcoPromBiotech development program was presented in Moscow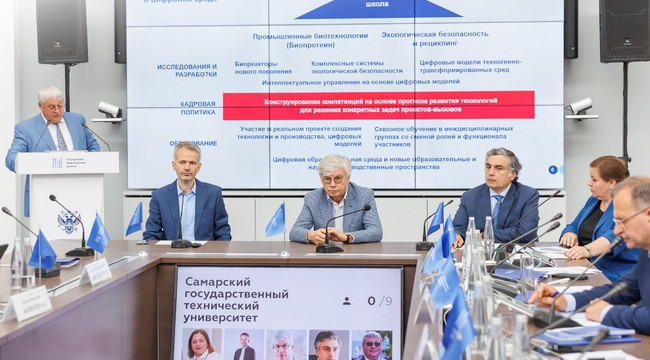 Advanced engineering school «EcoPromBiotech» created at Samara Polytech aims at making large-capacity industrial production biotechnological facilities in Russia, as well as at developing integrated environmental safety systems. On June 20, in Moscow, the university team led by Rector Dmitry Bykov presented EcoPromBiotech development program to the Council for State Support Grants.
«Today, Russia needs decisive action aimed at implementing State Technological Sovereignty Policy,» Dmitry Bykov said. – Industrial Biotechnology is what determines competitiveness of State economy. Our mission is to restore Industrial Biotechnology in the country. One of the main courses that we take is development of engineering solutions for industrial biotechnology.
Polytech Advanced Engineering School partners are the world leaders in science and production in biotechnology industry AO «Generium» and the Federal Research Center «Fundamentals of Biotechnology» of the Russian Academy of Sciences. The mutual goal is implementation of the greatest project for Russia - the design and construction of Plant producing bioprotein, starter fodder protein supplement. In general, we are talking about the strategic task of ensuring the country's food security.
In the medium term, Polytech Advanced Engineering School should become a federal level methodological center, which will train engineering staff in biotechnology and environmental engineering.