28 Apr 2023
Samara Polytech starts pre-admission campaign for foreign students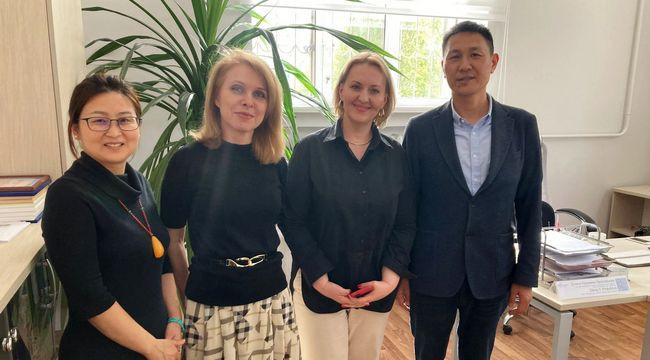 Springtime this year is busy for the Department for Collaboration with Foreign Students. DCFS managers organazied promotion for Samara Polytech in March and April targeting international applicants.
Thus, more than 500 young people from Ecuador joined online video conference. The head of DCFS Elena Prokofeva and the director of the Center for Additional Training of Foreign Citizens Elena Shipanova spoke before the foreign audience. But the main speakers at the event were students of Samara Polytech from Spanish-speaking countries - Mongoro Ada Demetrio Menana and Elebiyo Medina Matutina from Equatorial Guinea, Saltos Lara Brian Israel from Ecuador, Cardenas Guevara Raul Fernando from Panama and Moreno Diaz Edison Ramon from Colombia.
"Our foreign students gladly share their experience of living in Russia, studying at the University, and then answered all the questions from Ecuadorians" says Elena Prokofeva, "Also, most intriguing queries were related to getting a free scholarship and overall security of living in Russia".
Another big event was Doors Open Day. This year Samara Polytech welcomed a major delegation of applicants from Kazakhstan. Over 100 foreign visitors came to see the University for themselves, and find out about its rich history, academic programmes, admission procedure, accommodation and campus life.
Another important event was a video conference with colleagues from China. Elena Prokofieva, Elena Shipanova and Zhang Yong Hui, director of the Lu Quan Vocational Education Center, discussed the details of the future collaboration. Thus, an agreement on cooperation between educational institutions has already been signed.
"We are planning to implement 2 scenarios of mutual cooperation. First, we offer pre-university training followed by admission to Samara Polytech. Second, we suggest summer intensive online training. Having mastered the basics of Russian in their homeland, the students may come to enter the University. Of course, the area of the highest interest is IT" says Elena Prokofeva.
On April 26, the University was visited by Chinese colleagues Li Jinggui and Li Mei, representatives of the educational institution of secondary education Hefei Wuyou Dance Law Education Consulting Co., Ltd..The guests got acquainted with the Center for Additional Training of Foreign Citizens, students of our university, and discussed admission possibilities.
The countries of the Middle East did not fall out of sight of our university. This year, Elena Prokofeva and Elena Shipanova traditionally participated in Rossotrudnichestvo committee in Syria, and for the first time joined Rossotrudnichestvo committee in Lebanon. During the week, experts conducted interviews with foreign students applying for free scholarship provided by the Russian Ministry of Education and Science.