03 Oct 2022
They gave the master classes in the CIS countries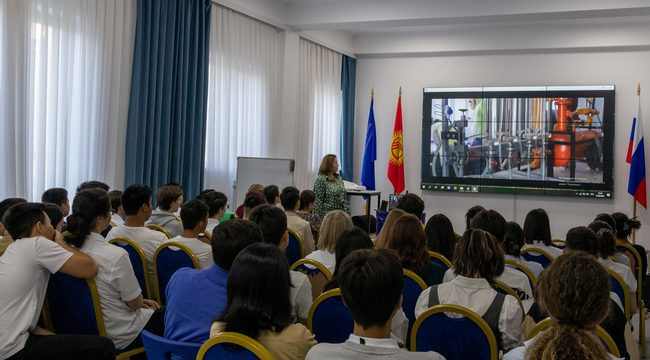 From September 20 to September 28, the staff of the department "Pedagogy, Intercultural Communication and Russian as a Foreign Language" organized more than 30 master classes for students and schoolchildren in 11 educational institutions of Kyrgyzstan and Uzbekistan. The educational project "Multinational Samara land: traditions from mouth to mouth, or the spiritual heritage of fairy tales" was implemented within the framework of a grant from the Ministry of Education. It is aimed at the full functioning and development of the Russian language.
On the first day, the delegation of the university visited the school. M. Lomonosov in Bishkek. Vice-Rector of International Relations Anna Zotova delivered a welcoming speech to the schoolchildren. She spoke about the advantages of education in Russia and, in particular, at Samara Polytech. The next item on the route list of the Samara team was the Kyrgyz State Technical University. I. Razzakova. There, together with representatives of the Department of Engineering Pedagogy, they discussed further joint activities.
On September 21, team of Samara Polytech tested the methodological materials of the project, which allow learning Russian from fairy tales, in Bishkek secondary schools No. 41 and No. 61. And on September 22, they met with philology students of the Kyrgyz-Russian Slavic University named after the first President of the Russian Federation B.N. Yeltsin.
"We gave a master class for philologists of the first and second courses on the methodology of teaching the Russian language to young children based on the Russian folk tale Teremok and the Chuvash folk tale The Dancing Fox," says the head of the department of Pedagogy, Intercultural Communication and Russian as a Foreign Language ", project manager Yulia Lopukhova. – Students actively participated in the work: they expressed their opinion on the method of presenting language material, discussed speech exercises and the possibilities of a fairy tale as a material for getting to know the culture of different peoples.
On September 23 and 24, the Samara delegation held at the Tashkent State Pedagogical University named after. Nizami, and on September 26 - in secondary schools No. 2, No. 21 and No. 22 of the Samarkand region. So, Yulia Lopukhova, together with the teachers of the department Maria Yurina, Elena Rakova and Natalia Gridneva, conducted lessons "Russian as a foreign language" for schoolchildren using fairy tales of different peoples.
The final day of the trip was held at Samarkand State University, where the presentation of the project "Multinational Samara Land: Traditions by Word of Mouth, or the Spiritual Heritage of Fairy Tales" took place.
"The overall assessment of the project implementation, voiced by all foreign participants, testifies to the high importance of events aimed at promoting the Russian language and culture, as well as the high pedagogical skills of our teachers," Lopukhova notes. – We have new countries and new ideas for the implementation of this interesting and relevant project ahead of us.