08 Jul 2019
Scientists called the invention Larifuga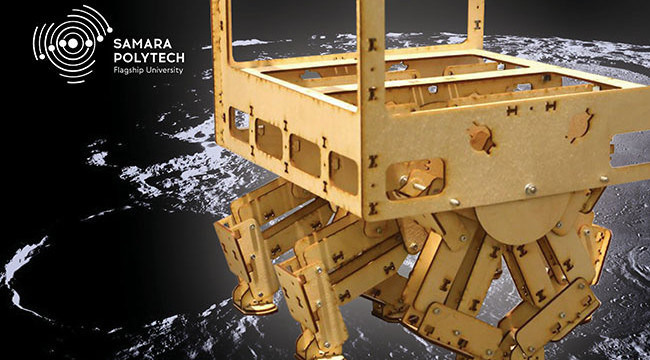 In perspective, walking architecture can become the most environmentally friendly vehicle.
Lunar walking mechanism «Larifuga» is a part of the lunar development concept of Flagship University Associate Professor - Anton Rakov. However, the project will be launched into space after earth tests. So, Larifuga can be used as a mobile office, a robot waiter or a mobile outlet. Walking architecture is already acquired by organizers of large-scale exhibition events.
Larifuga translated from Latin - «tramper». Projects of walking structures is the result of one of the interdisciplinary teams work of the Samara Polytech.
Architects Anton Rakov and Julia Ratieva calculated an innovative scheme for converting rotary motion into steps. By the way, this is the fourth in the world and the second walking mechanism in Russia. But the advantage of the scheme of Samara scientists is that it allows to place any payload. Externally, Larifuga is a platform located on walking supports: on eight, four or two. Now scientists are preparing a patent application for a unique walking architecture.
Inventors got inspiration from the animal world. At the heart of Larifuga is natural design: the mechanism was created on the basis of the structure of mammals, reptiles and insects limbs. In some modifications, the object is set into motion only with the help of muscular strength of a man, in others - electric motors are installed. Now such mechanisms are made of plywood, in the future, the use of metal and concrete is planned.
- The project has grown out of a social problem, - explains the candidate of architecture, the senior lecturer of «Innovative design» department Anton Rakov. - Coming out of the university and starting their own business, young professionals face the need to rent a room. It is expensive, but there is no guarantee of a regular income. Hence the need for a special, charge-free object that does not create inconvenience to others, and if necessary, could move freely from place to place.
Mobile facilities on wheels, the scientist believes, are not always suitable for such use, in addition, they need an engine and have difficulties with mobility and roadability. In this sense, walking designs look more promising.
When the scientists of the Samara Polytech began to develop the concept of lunar structures, the functional purpose of Larifuga expanded. It became the part of the robotic complex for building on the moon.
Not so long ago, Artyom Brazhnikov, a student at the Samara Polytech, manned Larifuga with a remote control. Now the walker can be controlled using a joystick glove, any remote controller or even using a special application from a mobile phone.