08 Jul 2019
Soon the university will receive a patent on the manufacturing technology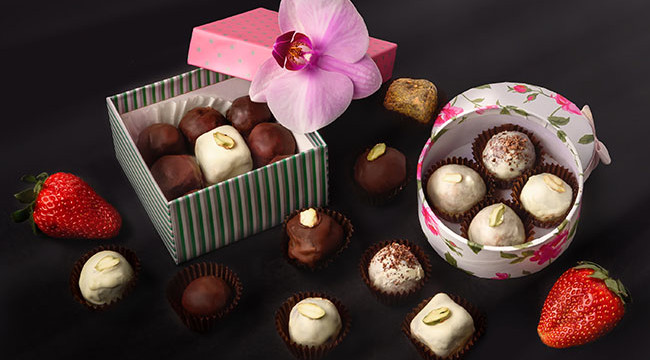 The technology of making sweets has been worked out for more than months, experiments have led to the invention of exclusive flavors, which are not yet available on the confectionery market.
«We have a new praline filling that nobody does in the world» - says Nadezhda Makarova, head of the Technology and Catering Department, Doctor of Chemical Sciences. - «We want to patent it. Candy from the store is a trend of the 80s, but Polytech goes further. Now we are ready to offer the technology to create handmade sweets with unique taste.»
Despite the initial successes, experiments continue. One of the last, most successful ones, led to the appearance of a ganache based filling. This is the development of the Candidate of Technical Sciences - Irina Kustova.
Release of one batch takes up to four working days. In each one, ingredients are carefully selected and after mixing in a special way they become a praline mass. This operation requires strict adherence to the time frame for complete mixing of the components. The nut mass is assimilated into the fruit filling, which is added to the praline, their composition must come to equilibrium.
An important stage of production is the tempering of chocolate. This is quite a long process, during which it is necessary to periodically change the temperature: raising and lowering it periodically. Made candies should also have time to «ripen».
By the way, members of the department have already received Certificates of Conformity for sweets in the Samara Center for Standardization and Certification.
In the Polytech, we do not make chocolate with sugar or sweeteners, we use only natural cocoa powder and cocoa butter. Therefore, the main product - chocolate - remains bitter. But the filling in it is sweet, thanks to maltose molasses. It is healthy for people suffering from diabetes, as well as for those who meticulously count calories, they can eat such sweets and not worry about raising blood sugar levels.
«From the point of view of organoleptics, the feeling of an subtle bitter taste creates the right perception», explains Makarova. «One or two candies are enough per day to get not only the taste of pleasure, but also the necessary amount of vitamins contained in the components obtained from berry juices, as well as the charge of protein trace elements and fatty acids from natural nuts».
A modern, multifunctional laboratory has been equipped for comfortable work on experimental samples at the Samara Polytech. This was made possible thanks to the Flagship University development program.
https://www.eurekalert.org/pub_releases/2018-10/sps-spu101818.php