19 Jul 2021
The visit is due to humanitarian cooperation between the countries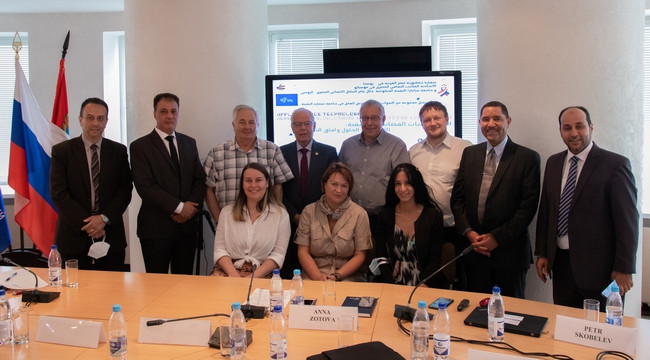 14 through 17 July, Samara Polytech was paid a visit by Osama Mahmoud Abdulrahman Shalbiea and Walid Abdelsattar Mohamed Ibrahim, representatives of the Cairo University, and Mohamed Bayoumy Abdelkader Zahran and Elsayed Said Mohamed Salama, representatives of the National Authority for Remote Sensing and Space Science (NARSS), and Ayman Mahmoud Mohamed Ahmed, Noha Moustafa Fahmy Elgohary, representatives of Egyptian Space Agency.
The first day started with the Awarding Ceremony. Samara Polytech foreign students received Certificates of Completion of Additional General Education in Russian. Professor of Cairo University, Osama Mahmoud Abdulrahman Shalbiea, and Chairman of Ministry of Higher Education, Mohamed Bayoumy Abdelkader Zahran, addressed the young people with the words of wisdom.
The main purpose of the visit was the discussion of cooperation in the area of aerospace. Thus, the guests took part in a meeting with the head of the Mechanics Department, Yakov Klebanov, and the head of the Control and System Analysis of Heat Power Complexes Department, Mikhail Livshets. At the next day conference representatives of agencies of Egypt met Petr Skobelev, the Head of Electronic Systems Department, Vasily Ermakov, the head of the Photometric and Titrometric Methods of Analysis laboratory and the head of the Department of Navigation, Guidance and Traffic Control (Department of Scientific Research of SSTU), Yevgeny Somov.
«This year we are just starting our cooperation with scientific and educational organizations of Egypt. However, we can already say that both sides are ready a willing for further collaboration", says Anna Zotova, Vice-Rector of international cooperation at Samara Polytech. "During the negotiations, the scientists exchanged the first ideas for joint research, discussed the possibilities for solving industrial, space and agricultural tasks. Dr. Osama Mahmoud Abdulrahman Shalbiea, on behalf of the Cairo University, expressed his readiness for return visit to sign a Cooperation Agreement between our universities and with the National Authority for Remote Sensing and Space Science».