08 Jul 2019
Samara Polytech scientists developed high-precision hyperspectral equipment and a unique method of spectral monitoring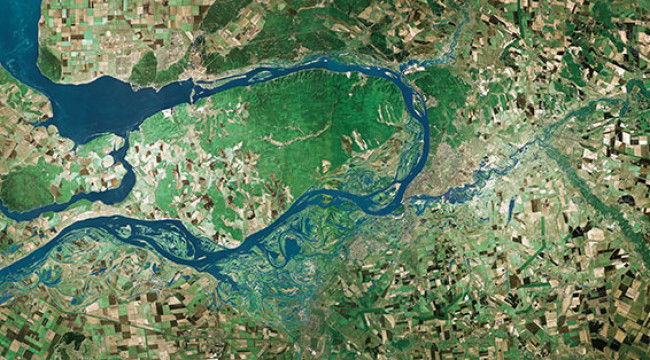 Nowadays, hyperspectral images contain a huge amount of data but it is quite difficult to interpret them. In order to do this, one needs to know what characteristics of materials are specified and how they correlate with the results of other measurements. So, developers need atlases of the images themselves, databases, libraries of spectra (their signatures). In addition, remote sensing requires some knowledge in field of physics, chemistry, geology and mathematics.
A unique interdisciplinary project team started its work in Samara Polytech. The results of their projects are expected to be a breakthrough and the next big step in the development of the spectral monitoring industry.
«Development of direct and remote spectral sensor systems» is an interdisciplinary project carried out by a team of scientists led by Associate Professor of the Chemical Technology and Industrial Ecology Department of Samara Polytechnic, Candidate (PhD) of Technical Sciences, Vasily Yermakov.
«We started with the selection of algorithms for mathematical processing of satellite images. We were able to detect the soil contaminated by oil and oil products but it was impossible to identify small objects. In order to make clear images at least two more levels were required», says V. Yermakov.
For making images of the second level, they used the airplane-laboratory with the installed hyperspectral equipment. On the ground the scientists collected the data using a spectroradiometer.
This multistage data extraction and analysis system allows measuring a lot of environmental parameters. Space monitoring facilities, air laboratories, ground mobile analyzers, - all this system of large and small devices must cope with the tasks of scientists, rescuers, oil workers, foresters, farmers: to detect the fire in the forest in time, analyze the composition of the products of burning oil flares, to measure the depth of the artificial dam, to consider the collapsing roadway. Modern methods of remote monitoring will also be useful for geologists, archaeologists, biologists, and astrophysicists. Thus, it is the hyperspectral data that will allow us to determine the composition of rocks from which other planets and asteroids are composed. And this is important for finding fossils on the Moon, the planets of the solar system, and for understanding the extent of the asteroid hazard.
Two agricultural producers have already requested the scientists to develop a way to use drones in agro-industry. The project team members suggested using the previously calculated classification algorithm for the «Resurs-P» system for drones, and also to improve the standard camera of the UAV in order to obtain images at a higher resolution. According to Yermakov, cameras and sensors testing has already started.
Also for soil monitoring, scientists require a soil spectrum which is most often covered with leaves. However, using the method of Samara Polytech scientists, it will be possible to obtain all the necessary information only from the images of the vegetation cover.
https://www.eurekalert.org/pub_releases/2018-09/sps-ssi092018.php